When it comes to buying and installing a steel roof in Toronto, there may be a lot of ideas, questions, and preconceived ideas you may have about how it works. We hope to answer a few of those questions here and to share a little know on exactly how to install a steel roof and what's expected.
Why steel roofing is preferred by homeowners
Steel roofing has a long list of benefits, including giving you an aesthetically pleasing roof and functional design. Steel is a long-lasting material, non-combustible, energy-efficiency, and is resistant to decay, discoloration, and mildew. Combating even the harshest of Canadian weather, steel as a roofing material is also great with wind and water resistance, has snow and ice shedding capabilities, and will work harder than other materials at protecting your property.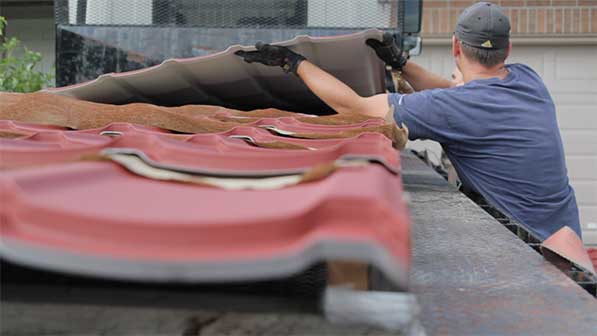 Why steel roofing is preferred by professional roofers
As a professional roofing company, we prefer using steel as opposed to other materials for several reasons. Steel roofing is a relatively easy and fast installation, there's more variety to it, steel's priced competitively, can be adapted to steep or low-slope roofs, and it's a lightweight materials that's overall very easy to work with. Unlike other products, it's highly unlikely steel roofing will ever warp, curl, or split as well. We love it!
Where to buy a steel roof
When you buy steel roofing, it's normally purchased through one of two ways – either through a building supply dealer or in a lumber yard. The cost of buying a steel roof in Toronto can vary, according to how much you need to complete your roof. Any sort of complexity in your roof design – such as valleys, hips, or special siding features – can also increase cost. Although the initial cost of steel is higher than asphalt, in the long-term, it's more cost-effective.
Steel roofs are not heavier than other roofs
When we talk steel roofs, some Canadians think steel is a heavier product than asphalt and other materials. That's simply not the case. Steel is extremely light to handle and can up to fifty percent less in weight than some asphalt roofing products. You won't need any additional supports to install a steel roof. In fact, in some cases, steel is light enough to be installed directly over an existing roof without having to remove anything. That equates to huge cost savings!
There are no hazards associated with steel roofing
A steel roof does not affect reception inside the home nor does it attract more lightning than any other type of roofing material. You shouldn't have any more difficulty installing satellite dishes and similar products on a steel roof. Also, a great feature of steel roofing is that it's an optimum material for preventing snow build-up and ice dams. To this point, ice dams are notorious for causing leaks in roofing. There are no hazards associated with steel.
Why steel is an eco-friendly roofing option
Steel is one of the most environmentally sustainable roofing options in the market. Not only does it function in a way that will cut down on a homeowner's electricity bills but steel is also 100 percent recyclable. In most cases, steel roofing is manufactured from partly recycled steel. Furthermore, after your steel roof has fulfilled its life span after decades of use, it can be removed and recycled again in its entirety!