The prices and benefits between metal roofing, steel roofing, aluminum, copper, and other roofing types are important to look at if you're considering a new roof for your residential or commercial property.
For the average home, a metal roof can range between $10,000 and $14,000*. In some cases, you may be able to find discounts from some roofing contractors or to get a sweeter deal. Although the upfront cost is higher than an asphalt roof, the quality of a metal roof is far greater – providing up to fifty years of roofing protection, being more eco-friendly, saving you more money on electricity and heating, and gives off a more contemporary appearance.
There are two categories of metal roofing – those more expensive and more high-performance, and those that are less expensive and which still carry with them major performance improvements over other roofing materials. The more expensive metals are copper and zinc, while the least expensive are aluminum and steel roofing. All of these metals usually last anywhere from 25-50 years, are more or less maintenance free, come highly durable and prepped to withstand the harshest weather, and are fine options.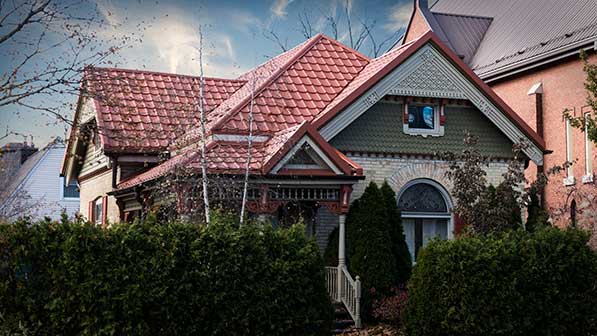 If you're looking to install a copper roof, as an example of a high-end metal roof, you are likely looking at a cost anywhere from $30,000 to $60,000 depending on size. Copper's such an expensive roofing material because not many roofers know how to work with it and therefore, their expertise costs a little more. Also, copper comes with a high market value to begin with and its lifespan can sometimes exceed sixty years.
Analyzing material cost alone (labor costs not included), copper or zinc both carry a similar cost, anywhere from $10 to $15 per square foot. Comparatively, aluminum roofing has a price range of $7 to $9 per square foot and steel roofing comes between $4 and $6 per square foot. Needless to say, most residential and commercial customers opt for the least expensive option.
Does the design of your roof affect installation cost for a metal or steel roof – well, yes. Commercially designed properties that have domes, angles, skylights, or with more complex setups, this can add to the labor cost required to have a metal roof installed.
Now, for the average home, your basic asphalt roofing is going to cost somewhere around $7,000. That's for a simple, low-pitch roof and the cost may or may not include services to remove your existing roof. Although asphalt is the least expensive roofing material, it's also one of the cheapest made and is no longer recommended because of its negative environmental footprint and its lack of performance or prone to becoming damaged.
Why aluminum, steel, copper, and zinc cost more is because they are a more permanent roofing solution than their lesser counterparts. When you install a metal roof, you won't have to worry about it again for decades. An asphalt roof could easily require replacement within 10-12 years, and sometimes sooner. Using any of these metal roofing options, you'll save money on energy and electricity, your home will receive better protection, and in the long run, it'll cost you less when comparing one metal roof installation to two, three, or four asphalt roof replacements.
* All prices are estimates. Contact us if you are looking for the quote and advise on roof material selection.