Metal roofs come in all sorts of shapes and sizes. As residents across Toronto, Chatham, and Ontario know, metal roofing goes a long way in being able to provide the durability needed to survive the tumultuous seasons. They also don't look half bad either. Throughout the past two decades, metal roofs have been re-designed to look as modern, contemporary as any other roofing material while still providing high ratings in reliability.
Benefit 1 – Metal Roofs are the Way of the Future

As more people across Ontario have come to install metal roofing, the material is being recognized as a far superior material than clay tiles or asphalt shingles. There are many advantages to choosing metal roofing. Among them is the fact that the material comes highly recommended by all Ontario roofing contractors, due to its dependability and its ability to withstand the harshest of winters and the hottest of summers.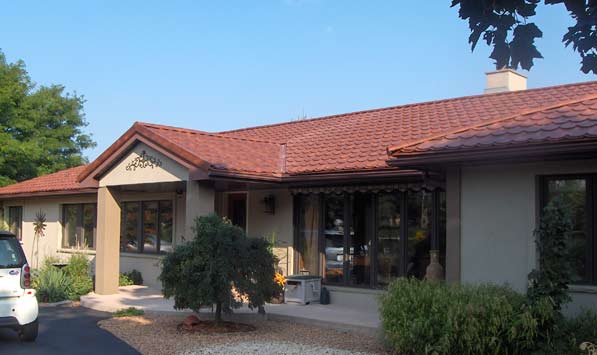 Benefit 2 – It Will Save You Money

Cost used to be a huge component that initially turned people off from installing metal roof panels in Ontario. Due to the fact that the upfront cost is higher than traditional shingles, in the past, many opted for asphalt shingles. Over time though, the truth revealed itself. Asphalt shingles do not have a long lifespan and eventually need to be replaced, upping the cost of this material in the long-term. Today, this is a major reason why many have switched to metal roofing in Toronto, Chatham, and other regions of Ontario. Yes, it is more expensive in the initial install however metal roofs last a lifetime and, in many cases, come with a warranty of anywhere from thirty to fifty years. Therefore instead of having to worry about having to install a new roof every fifteen years, get your metal roof and don't worry about having to go through the process again.
Benefit 3 – They Look Great

When some people think of metal roofing, they think of the old metal shack materials that used to be used. Today, metal roofing comes in all sorts of shapes and can be molded to suit the aesthetic of your property quite easily. Choose from a wide variety of colors and even select metal to imitate another type of roofing material. Then again, some customers have preferred a more traditional metal roof for its modern, contemporary appeal. If that's not your style, metal roof panels can be order to look closer to asphalt shingles, clay tiles, cedar shakes, slates, and in other designs. So not only are you getting the look of the roof you want but you are also getting the functionality of metal as a material.
Benefit 4 – They're Environmentally Friendly

Many residents in Ontario seek ways to reduce the environmental impact of their home. When this is a prime concern, an advantage of metal roofing is that they are made of recycled materials, sometimes up to 60 percent. Though the home building industry is one that is very wasteful when it comes to the environment, the fact that metal is so green means that you will be cutting down on what goes into the landfill. Also, when your roofing does require a replacement in fifty years' time, your metal roof can be recycled again for alternative use!
Choose Metal Roofing in Toronto, Chatham, and Ontario

There are many reasons to choose metal roofing for your Ontario property. If you are seeking a roofing solution that suits your needs and that you can get at a reasonable rate, don't hesitate to get in touch. We would be happy to speak with you about the advantages of metal roofs, answering any questions or concerns you might have about the metal roof panel products we have available.