Commercial and residential steel roof maintenance in Ontario is important to maximizing the lifespan of your roof. Through careful, routine monitoring and maintenance, a property owner can save themselves potentially hundreds of dollars.
By attending to minor issues in a timely fashion, you can avoid the costs of major repairs down the line. For example, a small leak that is not caught early will eventually damage the underlying structure, including the insulation and roof deck, slowly moving a property closer to requiring another roof. Even worse, should water find its way through to the living space underneath the roof, one risks permanent damage to the room and some major disruption to those who regularly occupy the room. It is unfortunate but neglecting maintenance and the damage associated with that neglect can sometimes void guarantees and roof warranties, making this something that should be considered by every and any building or property owner.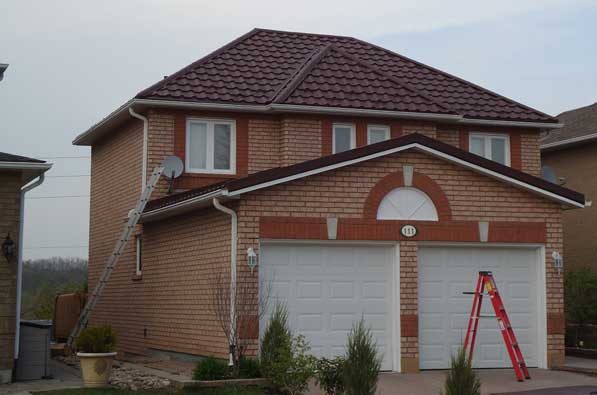 To begin with tips for steel roof maintenance in Ontario, there are a few general things that everyone should do. Cleaning the gutters often ensures no build-up. Making sure there are no trees or branches rubbing against the metal roof ensures no damage. Removing debris from the metal roof, including snow and/or ice if the build-up is particularly sizeable in the wintertime, ensures there is no further accumulation. These are all general tips to keep in mind for steel roofing in Ontario. Though the material is among the most resilient available, keeping your eyes open can help to avoid any bigger problems that may become present later.
Depending on the type of steel roofing one has, there are specific maintenance procedures that will be recommended typically by the manufacturing and/or the installer. It is always alright to ask questions, if they do not volunteer any insight into how to properly maintain the steel roof. Depending on whether it is shingles, flat seam panels, interlocking panels, or standing seam metal designs, each have their own way of being maintained. Engaging in steel roof maintenance regularly helps to clean, preserve, and beautify the metal roofs, and is the best way to ensure that it keeps doing its job. Consult with the installer beforehand on any tips they might be able to suggest.
Throughout the Ontario winters, the amount of snow can vary considerably from year to year. During the summer months, the heat can also be a lot for a roof to take. Now much of the advantage of steel roofing in Ontario is that it is a suitable material to combat the heat, cold, and weight of the seasons. That said, it is far from invisible. Throughout the winter, there may be times when the snow accumulates significantly on one's roof. Add the weight of ice and suddenly, this presents a problem. Carefully removing the snow and ice with a broom or similar object can be an easy way to keep weight off the room. Also, ensuring steel roof panels are coated with something to protect against color fading and stains is also recommended.
For all intents and purposes, steel roof maintenance in Ontario is easy. Cleaning off the roof when you notice something weighing it down, preserving it as best as one can with a surface coating, and just keeping a general eye out for anything that might be affecting the steel roof surface or what lies underneath is important. Any property owner who has decided on installing a steel roof in Ontario needs to be aware of how to properly clean and maintain the material throughout the years and decades that will follow.