There's a lot of jobs that you do not need to hire a professional contractor for. Roofing however is not the easiest install to make and there is plenty that can leave you with a roof installed incorrectly.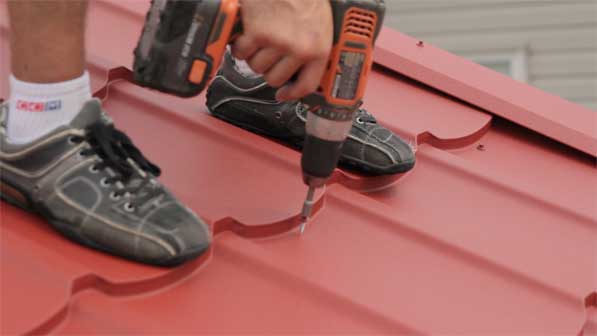 When it comes to hiring a professional roofing contractor, it is almost a necessity. Here are five reasons why you might want to consider hiring a professional roofing contractor to get the job done.
It's Safer
If you fall off your roof, it's going to leave you with some serious injuries. The risk of falling is high for anyone who does not regularly find themselves on roofs. Also, there's always the risk of accidentally dropping something that rolls off the roof. A professional roofing contractor knows how to walk on roofs, how to protect themselves in the event of a fall, and the safest possible way to complete an installation.
You get a Proper Installation Guaranteed
An experienced roofing contractor knows how to install a roof properly. Via a correct installation, you can bet your bottom dollar that you will have the insulation in place to protect your home from water damage and moisture issues.
High Quality Materials
Shopping for roofing materials yourself without using a roofing contractor leaves you vulnerable to buying materials that are not of the highest quality. When you go to a professional roofing installer, they likely have access to higher quality products through industry suppliers who are willing to offer them better wholesale pricing than you can find anywhere else.
This translates to a higher quality product, architecture that is going to be more visually appealing, and a root that is ultimately built better and that will thereby last longer.
Get it Done Fast
Many roofing installations take a day to get started and finish. Professional roofers will even sometimes brave inclement weather to get the job done, unless it poses a danger to the team or project. By hiring a professional, you can ensure that the job will get done fast and effectively.
Best reason of them all is you get a Warranty!
When you buy into a professional roofing contractor and installation service, more often than not you will get a warranty on any work done. This means that not only are the materials protected under warranty but the actual installation is as well. If there are any issues with your roof in the years that follow, you should be able to receive repairs at no extra charge. Relax knowing that if there's ever a leak or tiles come loose, a professional roofer can be right there to fix everything.
Jumping into the reasons to hire a professional roofing contractor, it is evident why so many go this route. There are some DIY products on the marketplace for homeowners to buy but these sometimes use lesser quality materials and in addition, you have to find a way to install it yourself. Hiring a professional roofing contractor gets you these advantages and the peace of mind of knowing that you are in trusted hands. For these reasons among others, a professional roofing contractor is well worth the consideration!