Steel is a unique material used across many different applications, including in the installation and repair of roofing. Some property owners have chosen steel roofing for their homes and businesses, serving as an alternative over more limited options. As steel material technology has advanced, so has its look, advantages, and function. As a roofing material, steel can be argued as 'the best' and it comes down to these four reasons.
The structural strength of steel makes it a highly durable material to use to build a roof from. Accustomed to use in many regions and environments, steel roof panels in Ontario are able to withstand whatever the weather will throw at it. Even in the most severe of winters or hottest of summers, steel panels are not going to burn, turn, crumble, and twist like asphalt shingles will.
The key to ensuring the most durable steel roof however is ensuring a professional roofing contractor has properly installed it. Even with the most advanced of steel roofing materials, if they've not been properly installed, it can severely affect its durability.
The next reason as to why steel is the best roofing material is its versatility. Malleable, steel can be bent into the shape it needs to be quite easily. Visually gorgeous, customize steel roof panels to the look or theme you want. Steel roofing in Ontario is able to complement the exterior of any residential home or commercial building, adding significant value to a property in the process.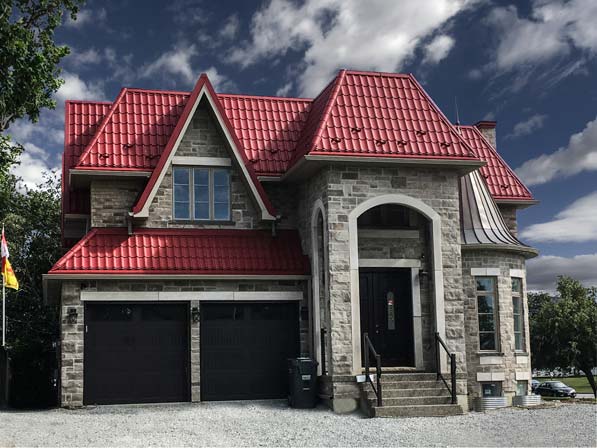 Thirdly, steel and metal are both some of the most eco-friendly roofing materials available. Steel roof panels are sometimes made from recycled materials and, after it has outlasted its lifespan, can be recycled again. Also, the strength of steel does not deplete, meaning that it does not need to be replaced anywhere near as often as asphalt which saves on cost. Consuming less energy overall, steel carries with it high environmental sustainability ratings, which are directly associated with its manufacturing and transportation.
The last point as to why we think steel roofing is the best is because of its energy efficiency. Installed correctly, a steel roof will reflect heat meaning lower cooling bills in the summer. At the same time, steel carries with it high moisture control and protection from the cold in the winter.
Searching for the right roofing materials for your Ontario home, you may come across cheaper selections such as asphalt shingles. Though asphalt may have served a purpose at a time in roofing, today's roofing technology has advanced to the point where asphalt is a lesser quality material.
Asphalt roofs require a replacement every 12-15 years approximately – and in some cases, far shorter. Steel and metal roofing can last as long as fifty years, and oftentimes, they come with warranties that go up to 50 years and longer.
For longevity's sake, the upfront cost of steel roof panels are worth it when one considers the cost they will have to pay in time having to replace cheaper, less effective roofing materials. Be it residential or commercial, consider steel roofing for your Ontario property. By doing so, you can rest easy knowing that it'll be value added to your property with a high quality steel roofing product.