Applying a steel roof in Ontario instantly increases the value of a property. For real estate renovation enthusiasts and Canadian homeowners, installing a steel roof is a great way to create a more eco-efficient home.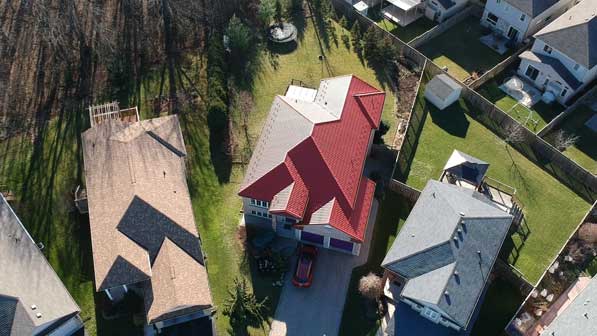 Steel roof panels are more popular in some areas than others. Among some Ontario residents in need of a roof replacement, steel as a material sadly goes often overlooked. If you need a replacement though, going with steel is one of the most cost-effective moves you can make.
For those that go with traditional asphalt shingles, they may be out of luck when it comes to adding value to their property and saving money. The wear and tear of Ontario weather can really beat down an asphalt roof. The average asphalt roof in Ontario requires replacement every twelve years. Compare this to steel roofing which can have a life span up to fifty years. In the long run, far more money is saved with a steel roof compared to traditional asphalt.
Needless to say, steel roof panels can withstand a lot. Extremely durable, they're never going to rot, split, crack, warp, soften, or act as a habitat for bugs and pests. Steel is also a corrosive resistant, fire resistant material, and even hail damage should not have significant effect on one's roof. Throughout the winter time, the weight of the snow and ice can be a problem for some asphalt roofs however with steel, it's a little more effective at this. Steel is itself lighter than asphalt and the manner in which panels connect make roof leaks very difficult to form.
Energy efficiency is another reason why more homeowners are switching to steel roofs in Ontario. Steel is a very eco-friendly material, capable of being made from recycled materials in addition to being recyclable at the end of its life span. Steel reflects the heat of the sun in the summertime and keeps the home insulated in the winter. Annually, some studies have pinpointed energy bill savings of up to 25 percent. Steel and similar metals are some of the greenest roof materials there is in Canada. That's why most eco-friendly homes have them installed.
After installing a steel roof on an existing property, its value increases by incorporating a premium product into its design. A homeowner is left with a more eco-friendly home with lower monthly expenses, better protection against leaks and weather, and a cost-effective roof.
If you're looking to renovate and sell, and/or renovate to have a nicer property to call your own, steel roofing has its place. There's virtually no disadvantages to having a steel roof, outside of the higher upfront cost of steel compared to traditional asphalt. That upfront cost pays itself off through monthly energy savings and not having to request a roof replacement for multiple decades. Just think, in the same time that one steel roof lasts, an asphalt roof will have to be replace three or four times. Buying a steel roof in Ontario increases the value of your home instantly!