There are many advantages of steel roof installation and choosing steel as your roofing material instead of more traditional options. With the Ontario climate giving a wide array of weather over the course of the year, it's important that your roof is high quality, durable, reliable, and that doesn't make your home look like a bunker. Steel roof panels are known for their durability and their ability to provide curb appeal. If you are considering installing a new roof on your residential home or commercial address, take a read through the following 7 advantages of a steel roof over other materials.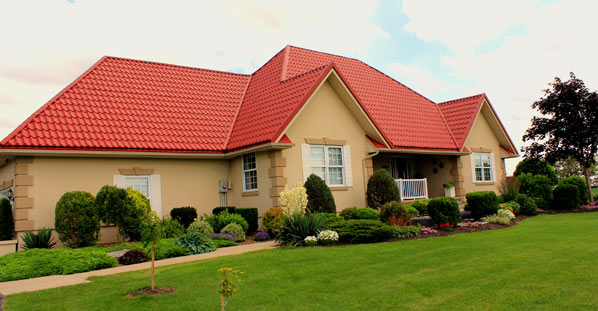 #1 Steel roof panels are a strong investment for your home.
It is not uncommon for steel roof panels to last as long as fifty years and beyond. The price of steel roof installation is a little more than traditional ceramic tiles but when one considers the costs of maintenance and roof replacement over time, the investment in a steel roof in Ontario is well worth it.
#2 Steel roofs are regularly coated to prevent corrosion and increase durability.
Galvanized steel roofing systems are pre-coated by the manufacturer in order to guard against corrosion and to provide a higher durability rating. The high quality paint finish as well doesn't sacrifice beauty.
#3 It is possible to install a steel roof over an old roof.
If you are looking for a steel roof contractor in Ontario, know that it is possible to install a steel roof over an old roof thereby eliminating the costs and hassle associated with having to tear off the shingles. This is possible because steel is a very lightweight material that promises not to cause long-term structural bending either.
#4 Choose from a number of colours and styles for your steel roof.
There is an abundance of colors and styles to choose from as it pertains to a steel roof. The old traditional look of metal shingles can now be manufactured to imitate the look of slate, clay tile, cedar shake, and other looks. The diversity of the materials themselves means that steel or metal roof panels would suit any exterior.
#5 A steel roof is non-combustible and can protect against hurricane level winds.
In addition to being highly weather resistant, steel roofing is also non-combustible meaning that it will never catch on fire like asphalt roofs would. In addition, steel roof panels are wind resistant as well and are able to take winds up to hurricane level.
#6 Metal and steel roofs are the most durable materials to make your roof from.
Metal and steel does not rot, split, crack, dry out, chip, warp, or leak. These materials are not susceptible to termite or rodent infestation either. It's not uncommon for metal or steel roofs to be able to withstand the impact from hail, sticks, and other circumstances.
#7 Metal and steel roofs require no maintenance.
It's true. If installed correctly, you won't need to perform any maintenance other than a minimal amount now and again. To clean it, simply use water. If exposed fasteners are being used, faster re-tightening may be required once every ten to fifteen years. Beyond that, there's nothing else it needs.
These are just some of the advantages to steel roof installation. Be sure to browse through our product selection to get a better idea on what might be appropriate for your home or building.