Every year you should take a check of your roof, examining any damage that might exist and acknowledging the worrisome signs that you might need to replace your roof. Completing this roof inspection prior to the beginning of winter is ideal as it gives you a chance to prepare for the harshest time of year. In addition, you already know that if your roof is old or if there has already been a storm that has taken a lot out of your roof, it might be time for a replacement.
The first step is to assess the state of what's there. You don't need to get up on a ladder and head up there yourself to do it either. Simply take a look up from your yard. There are five things you want to watch out for when it comes to inspecting your roof in Ontario. Look for any cracked caulk or rust spots, any missing or broken shingles, any shingles that might be blistering or curling, the condition of the vent pipes, and take note of any moss or lichen that may appear. If there is moss and/or lichen in mass anywhere on your roof, it might be a sign that your roof is decaying from underneath.
If you have a traditional shingle roof and it is more than fifteen years old, there will likely be a bit of damage and/or it might be in need of a full replacement. If you are beginning to look at a replacement, you may want to do away with the traditional shingle roof and move to more sustainable, affordable metal roofing system. The benefits of a metal roof are numerous but include a longer life span lasting up to fifty years and being an overall better investment for your property than the traditional option.
Choosing to take a chance and go another year without a replacement potentially leaves room for significant property damage should unforeseen winter circumstances arrive. A metal roof will be able to handle the freeze and thaw cycles better than a traditional shingle roof can and will be able to hold heavy snow build-up better, withstand strong winds, and is one of your better options in the event of a hail storm.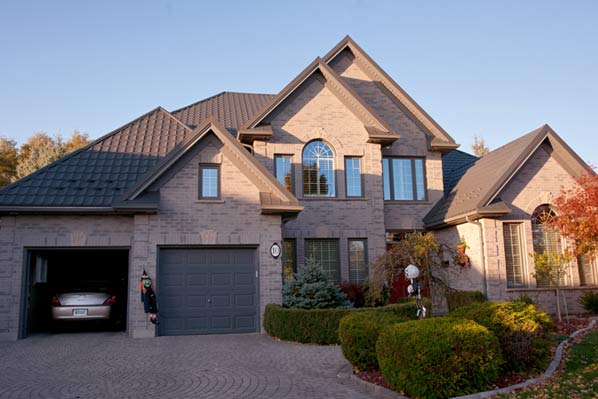 Instead of worrying about whether your roof is going to be able to withstand another winter or worrying about when you might need to replace your roof, get it done today. By replacing your traditional shingle roof with a metal roofing system, you are protecting your property against the elements for the next forty to fifty years. It will be a long time before you have to worry about your roof again.
If you just want to make a few shingle repairs, it's only going to put off the inevitable and it's a risk. Contact a roofing company in Ontario and get a free quote for a full roof replacement, this time with a metal roof. This way, you can keep minor fixes low, shave costs off your property long-term, and you can address any problematic roof issues immediately.