Steel is fastly becoming one of the most widely uses roofing materials for commercial and residential roofs. Through the tough winters and hot summers, a property owner can get more out of their steel roofing or metal roofing than they can out of traditional, asphalt shingles.
There have been many times where we have had customers be caught off-guard by heavy snowfalls and long winters, unaware that their roofs were not prepared to withstand the season. If you need a roofing installation, you don't need to wait for spring. Metal roof panels and steel roof panels can both be installed during the winter months. We highly recommend that, if it's needed, to not wait and schedule your install this winter. Here are four reasons why you may want to think about it.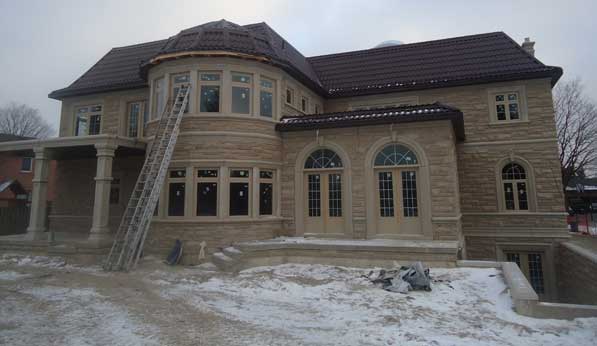 #1 There are not as many scheduled installs

During the winter months, there are significantly less installations and for some contractors, winter is their slowest time of year. What this means from the perspective of the customer is that you may be able to negotiate a better price for a metal roof installation or steel roof installation. Also, if you have an ideal install date, you are more likely to get it with less competition in winter.
#2 Metal and steel are easy to repair

If you have had difficulties sustaining the weight of snow on your roof in past winters or if you fear like you may have issues this year, or perhaps you are in the process of experiencing a winter roof emergency, metal and steel are materials that are not only stronger but that are easier to repair. If your roof is comprised of traditional asphalt shingles, repairing them in the wintertime will be nearly impossible. If you have metal roof panels or steel roof panels however, these can be easily handled.
#3 Metal and steel are made for winter

Metal roofing materials and steel roofing materials are made to withstand winter weather. The interlocking panels minimize snow and ice build-up throughout the season, ridding your roof of heavy weight as needed. The interlocking design also prevents water from travelling upward. No matter how cold it may be outside, metal roof panels and steel roof panels never expand, contract or break by the whim of the temperature.
#4 Metal roofing and steel roofing are natural insulators

The way that metal roofing panels and steel roofing panels are built is to allow for air to move freely, ultimately resulting in lower heating bills during the winter and allowing you to keep your house cool during the summer.
If you are already experiencing issues with moisture in your attic or elsewhere surrounding your roof, leaving these types of moisture issues fester can mean higher costs for you in the long-run. Installing a roof made of metal or steel can certainly help in preventing moisture accumulation and ensure that the top of your home is getting the air circulation it needs to retain its value.
If you would like to find out more information about what material (steel or metal) would be appropriate for your property as well as to find out more information regarding pricing and/or scheduling an install, please don't hesitate to contact us today to speak with a representative.
For a limited time, Steel-Roofers is offering a Winter Special of 50% off on all taxes for your metal roof installation or steel roof installation.