Metal roofing in Chatham has been growing its market share significantly in the last few years. Like any roofing material, metal has some major advantages however unlike its traditional, asphalt shingle counterpart, its disadvantages may not be disadvantages at all.
How to choose the right metal roof for your home in Chatham ultimately comes down to what the priority is. Among the many reasons why metal is chosen for residential and commercial roofing application is because it lasts far longer than most other selections.
Consider asphalt shingles in Canada which may last anywhere from a decade to fifteen years. Asphalt is known for deteriorating rather quickly, especially in the face of hot Canadian summers and the brutal winters. Compare this to metal roofing, which can last up to fifty years and sometimes more, and which does not corrode or crack. If roof performance is the major concern for your Chatham home, a metal roof will get the job done.
If money is the main concern, there are two sides to the coin to think of. Firstly, there's the upfront cost of purchasing metal roofing which will be higher than some other materials. There's no hard rule about it but on average, metal roofing can cost roughly twice as much as asphalt shingles. For Chatham homeowners who think of it like an investment though, in the same life span of a metal roof, one would have to replace an asphalt roof two or three times at least. That equates to, in the next fifty years, saving quite a bit of money on roof installation and replacement.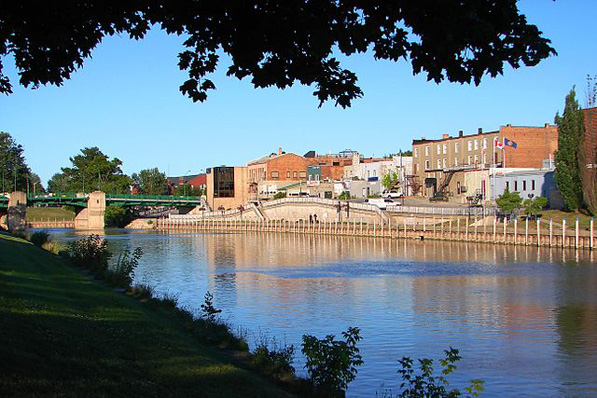 Image by P199, unaltered, CC BY-SA 3.0
In addition to these things to weigh and consider, know that metal saves big on energy and is one of the most environmentally friendly materials out there. Metal roofing products are usually made partly from recycled materials. Metal can also be recycled again at the end of its life cycle. In terms of your home's energy costs, some estimates suggest there's savings to be had up to 30 percent! All things considered, when weighing the initial cost against what you'll save in the months and years to come, the cost-efficiency of metal roofing more than balances itself out over time.
The last thing we want to mention about metal roofing is that they come in a range of profiles, styles, and colors. How to choose the right metal roof in Chatham comes down to your preference in aesthetic. Taking into consideration what you want your home's aesthetic to be and also what's surrounding your home, you can select a metal roof that perfectly suits the neighborhood. There are dozens of potential preference choices that can help you find the ultimate roof for your home.
Homeowners that have switched to metal roofing report feeling pleased and very happy with their selection. As Canadian weather seems to be always unpredictable, it's important Chatham homeowners have the best possible protection installed on their property. That's exactly what they get when they choose metal roofing. Browse the top metal roofing products in Canada in our catalogue and speak with a representative today to find out more on how to customize.